Garden Video Details
LiveSmartVideos has created the most complete video on the market on How to Grow Your Own Organic Vegetable Garden.
This 2½ hour video covers everything you'll need to know from early spring preparation of your garden through the fall clean up. It walks you through how to pick the best garden site; how to design a garden and make paths; how to plant from seed or nursery plants; how to feed plants and prevent weeds; how to compost; how to prevent pests and disease; how to cook your fresh vegetables and much more.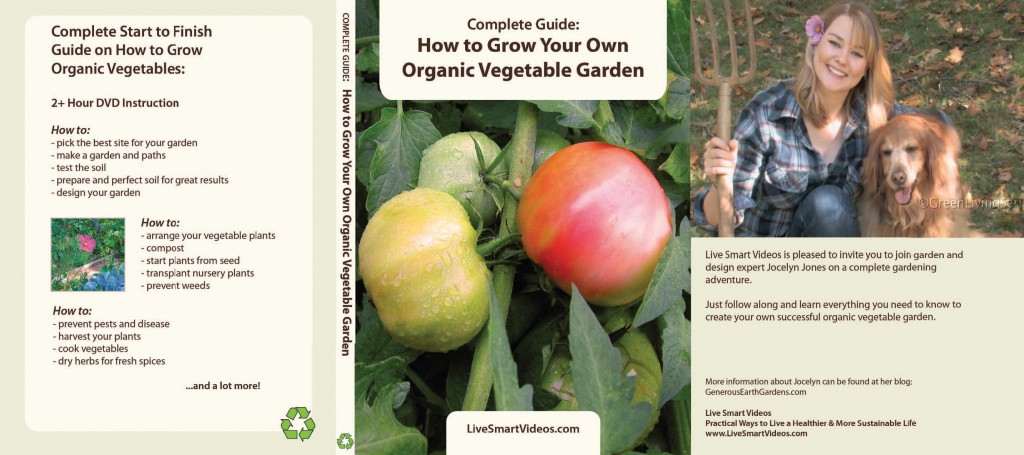 Here is a complete list of chapters:
* Introduction
* Chapter 1: Picking a Garden Site
* Chapter 2: Establishing a Garden
* Chapter 3: Starting Plants Indoors
* Chapter 4: Taking a Soil Sample
* Chapter 5: Preparing the Soil Part I
* Chapter 6: Preparing the Soil Part II
* Chapter 7: Making a Pathway
* Chapter 8: Deciding What to Plant
* Chapter 9: How to Arrange Your Vegetables
* Chapter 10: Design Principles #1
* Chapter 11: Design Principles #2: Color and Texture
* Chapter 12: Enclosures and Paths
* Chapter 13: Planting Close Together
* Chapter 14: Composting
* Chapter 15 (first half): Planting Seeds and Seedlings Outdoors
* Chapter 15 (second half): Planting Seeds and Seedlings Outdoors
* Chapter 16: Pole Beans
* Chapter 17: Help With Powdery Mildew
* Chapter 18: Feeding Your Plants
* Chapter 19: Weeding
* Chapter 20: "Hilling" Potatoes
* Chapter 21: Early Harvesting & Thinning Carrots
* Chapter 22 (first half): Summer Harvest & Scary Bugs
* Chapter 22 (second half): Summer Harvest & Scary Bugs
* Chapter 23: String and Dry Peppers
* Chapter 24: More Harvesting and Juicing
* Chapter 25: Late Summer Harvesting
* Chapter 26: 20-minute Dinner From the Garden
* Chapter 27: Making Sun-Dried Tomatoes
* Chapter 28: What to do in the Fall
* Chapter 29: Goodbye & Bloopers
The complete video on "How to Grow Your Own Organic Vegetable Garden" includes two and a half hours of entertaining and instructional video on all necessary topics, including: picking a garden site, establishing a garden, starting plants indoors, taking a soil sample, Preparing the soil (parts 1 & 2), making a pathway, deciding what to plant, arranging your vegetables, design principles, color and texture, enclosures and paths, planting close together, composting, planting seeds and seedlings outdoors, pole beans, help with powdery mildew, feeding your plants, weeding, "hilling" your potatoes, early harvesting and thinning carrots, summer harvest and scary bugs, string and dry peppers, harvesting and juicing, late summer harvesting, 20-minute dinner fresh from the garden, making sun-dried tomatoes, what to do in the fall, and even a fun goodbye with a set of bloopers.
Purchase the video HERE.
See video introductions and sample clips HERE.